Members of the Working Group on CRO discuss the IT solutions to modernize Moldovan courts
The court reorganization and optimization (CRO) reform is a major priority of the Moldovan government in its efforts to provide efficient and transparent judicial services to the people of Moldova.  Under this reform the number of courts in the country have been reduced from 44 to 15 to address inefficiencies and costs, and the challenges of providing judges and trained personnel for so many courts. The reform also seeks to modernize court processes and services by using innovative technology (IT), improving the quality and integrity of its judges and judicial personnel, and by making the judiciary more transparent and accessible.
The USAID Open Justice Project is actively assisting the government to move this reform forward while enhancing public awareness onf the reform's long-term impact.
As a first step, Open Justice conducted an impact evaluation of the CRO to identify the most challenging issues faced by the courts' staff. Open Justice organized seven focus groups with representatives from the Superior Council of Magistracy, the Agency for Court Administration, and district and appellate courts. In addition, the Project conducted an online survey involving 368 participants, in which court presidents, judges, and court staff contributed their opinions about the impact, advantages, and disadvantages of CRO. In response to the problems identified in the assessment, the Project assisted the Superior Council of Magistracy in the creation of a CRO Working Group to expedite the reform.
The Working Group pinpointed an urgent need to introduce IT solutions and equipment. Open Justice is upgrading the Case Management System and developing the highly interoperable Integrated Case Management System, which among other things, will greatly improve the ability of the public to access court information and services. Open Justice also purchased 20 sets of videoconferencing equipment and installed these at the central premises of district courts, appellate courts, the Supreme Court of Justice and the Superior Council of Magistracy. The equipment is used to ensure better communication between the Superior Council of Magistracy and court leadership, organize online court hearings with detainees and enhance transparency by video recording court hearings.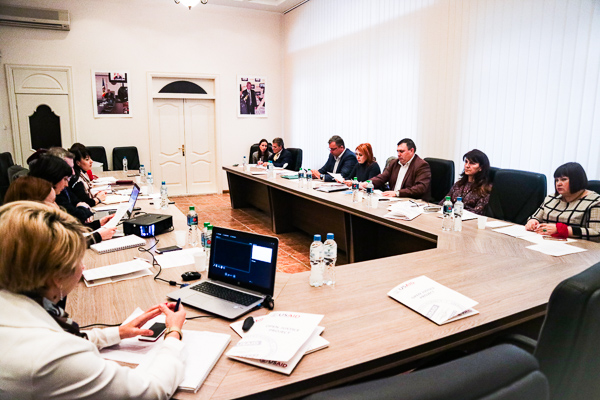 Open Justice Consultant presents the main evaluation findings of the court infrastructure and maintenance costs
Open Justice also evaluated the infrastructure of 42 court offices across the country and conducted a cost analysis for the courts' continued maintenance. The Project made recommendations for further consolidation of courts in order to address financial shortfalls, and enhance overall court administration and improve its capacity to deliver services more effectively. Open Justice has proposed amendments to the Law 76 on CRO to speed the merging of courts to improve public access to justice.
Although the full CRO implementation is scheduled to be completed by 2028, the USAID Open Justice Project is helping the judiciary to advance the reform so that citizens have access to high quality court services as soon as possible.