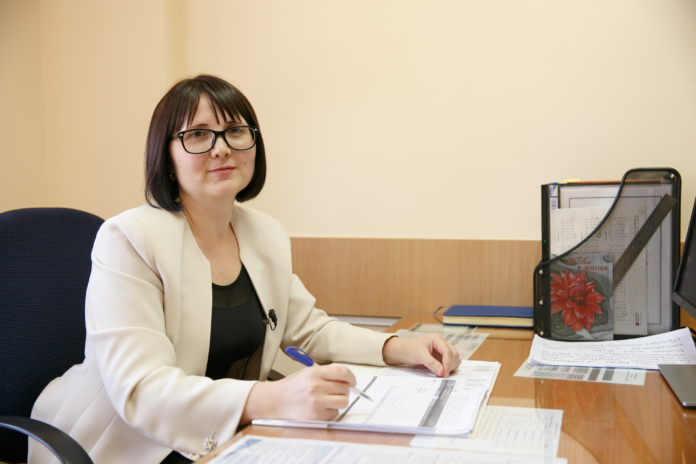 Valentina Diacenco, the Chief of Secretariat of the Comrat Appellate Court
In Moldova's courts, paper-based reporting will soon be a thing of the past. Complex statistical reports that used to take hours to produce can now be generated in real time through a new electronic statistical reporting module.
Valentina Diacenco started her activity at the Comrat Court of Appeal in 2006, and as of 2010, she is responsible for ensuring the preparation of statistical reports. According to her, during all these years, the reporting periods were always associated with piles of documents and working intense hours to manually fill in the data in the paper-based statistical reports.  With the automated case management system developed for the Moldovan courts by USAID's Open Justice Project, Ms. Diacenco and other staff can now generate critical reports about court performance with a few clicks of the mouse. "Thanks to the new electronic statistical reporting module, we no longer have to waste days and even weeks to manually fill in complex statistical data. Now, any report, regardless of its complexity, can be generated just by selecting certain search criteria," said Ms. Diacenco.
The automated system holds a host of data about Moldova's courts. Its statistical reporting module can then use this data to generate real-time reports on a variety of internationally accepted court performance indicators, such as case disposition rates, allowing the judiciary's managing bodies to monitor and evaluate court performance more effectively.
The benefits were clear to Ms. Diacenco: "The new electronic statistical reporting module also offers the possibility to generate reports for any selected period. Therefore, the new module will help us to focus more on the analysis of the generated statistics rather than merely producing lengthy and complex paper statistical reports."
More than 100 types of statistical reports are available in the system for first instance and appellate courts. The reporting module also allows staff to easily create customized reports based on different sets of criteria. Using these tools, court leaders can track case processing efficiency by judge and case type, identify inefficiencies, and focus judicial resources where they are most needed.
The automated case management system is currently in use in all of Moldova's courts. The statistical reporting module was piloted at the Comrat and Balti Court of Appeal and the district courts under their jurisdiction, and will soon be rolled out countrywide. Recognizing the reporting module's value and efficiency, Moldova's judicial authorities have decided to require that all courts produce statistical reports in electronic format only starting in 2021. This will mark another important step in the modernization of Moldova's judiciary.
Through innovations such as this real-time reporting module, the Open Justice Project is enhancing the efficiency of the judicial system while providing critical tools to improve court performance. With these improvements and supports, the citizens of Moldova will be able to receive the services they need without unnecessary and costly delays.