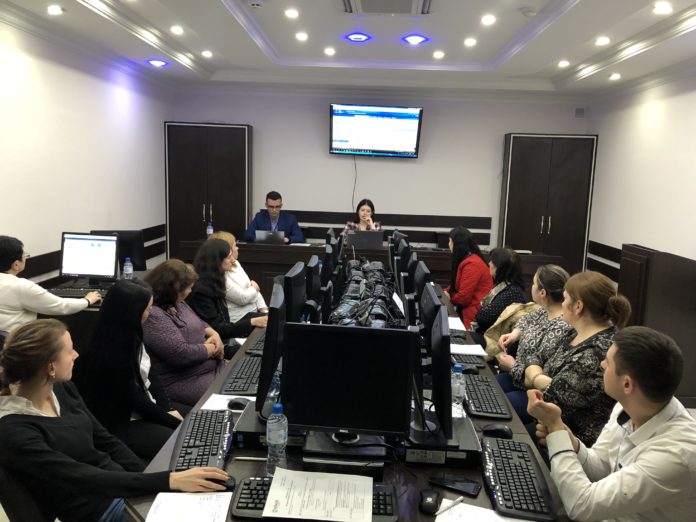 The training of the Balti District Court's staff on the use of the new ICMS
The new ICMS is helping the Moldovan courts achieve big advances in efficiency and transparency — from the distribution of cases, to sharing information with other governmental systems, to speeding the administration of justice
USAID's Open Justice Project continued to strengthen the efficiency and transparency of the Moldovan judicial system by developing and implementing a new Integrated Case Management System (ICMS) in all 20 Moldovan courts (46 locations). The new ICMS replaced the old Case Management System (CMS) launched in 2009. The ICMS is a state-of-the-art system designed on a platform with a higher level of security and more flexibility for future upgrades. The ICMS is one of the Project's main results, achieved in cooperation with the Superior Council of Magistracy (SCM) and the Agency for Court Administration (ACA).
Piloting the ICMS was a highly complex effort that involved migrating over 2.9 million case files from the old system into the new ICMS, interconnecting the ICMS with other government software platforms, training more than 1,870 judges and court staff members, and purchasing and installing 560 desktop computers in all courts. The Project also provided extensive assistance to the SCM and the ACA in drafting the various legal documentation required by law for piloting any new governmental software.
Open Justice is confident that the latest version of the ICMS will increase the speed and reduce the costs of court services, streamline court administration, increase accountability and trans­parency, and lay the foundation for a paperless court system.
Random distribution of cases and a balanced workload in courts
One of the ICMS's most important functionalities is the random distribution of cases based on an algorithm that takes into account the complexity of the case, the judge's specialization (e.g., civil, misdemeanor, criminal), and the judge's workload. Through this system, the ICMS ensures a more transparent and balanced assignment of cases among judges.
Interoperability with relevant governmental platforms
The ICMS also provides an efficient system for the exchange of information between authorities during case examinations. Currently, the Project has facilitated smooth interoperability between the ICMS and the State Registries of Population and Legal Entities, through the MConnect platform, and the National Courts' Web Portal, which instantly displays relevant information for parties to a case. Open Justice also integrated the ICMS with the upgraded E-File Module, which is being piloted in the Cahul District Court and the Cahul Appellate Court. The upgraded E-File Module allows attorneys and public entities to file claims online and receive up-to-date information on the status of their cases. The ICMS is also ready for eventual functional integration with the Prosecutor's E-file system, the E‑bailiffs, the Registry on Forensics and Criminology, the Registry of Criminal Offenses and Contraventions, and the Registry of Enforcement Procedures.
  Valentina Diacenco, the Chief of Secretariat of the Comrat Appellate Court is describing her experience as a new ICMS's user           
Significantly improved speed of judicial processes
The benefits of the new ICMS are widely appreciated by court staff. Valentina Diacenco, the Chief of Secretariat of the Comrat Appellate Court, has been working in the judiciary since 2006, and was one of the first court employees to use the original CMS automated case system. Comparing the CMS and the ICMS, she noted the advances that have been made in efficiency since the new ICMS was installed at the Comrat Appellate Court in January 2019:
"The upgraded ICMS has significantly improved the speed of all judicial processes, from filing to disposition of cases, thanks to the ICMS's numerous new developed features, especially the interoperability with various state agencies' systems and databases. Thanks to the new ICMS, we no longer need to manually input a plethora of data into registries or court forms. This allows us to focus on the quality of provided services, instead of doing a lot of paperwork."