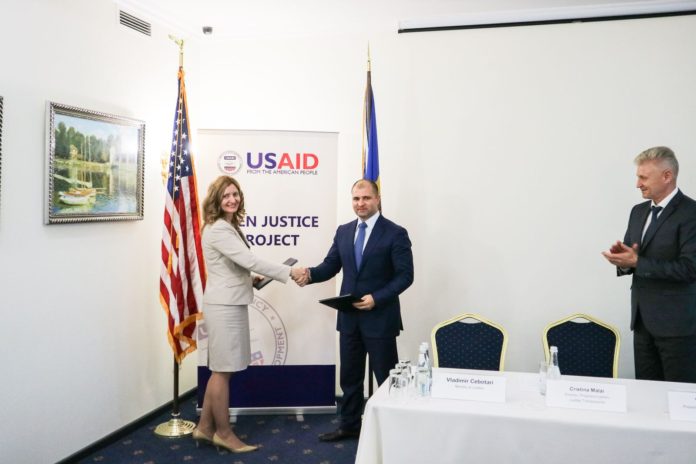 Open Justice Chief of Party Cristina Malai, Minister of Justice Vladimir Cebotari, and
Superior Council of Magistracy Chair Victor Micu exchange the signed Memorandum of Understanding
On August 4, Open Justice signed a Memorandum of Understanding (MoU) with its key stakeholders – the Ministry of Justice and the Superior Council of Magistracy. The MoU sets the foundation for the cooperation between the main judicial bodies over the next two years. The signatory parties committed to work together closely on justice sector reform implementation to reduce corruption and strengthen the accountability and transparency of the justice sector and the judiciary. Open Justice will introduce innovative web-based technological tools and solutions for strengthening the justice system.
The main objectives highlighted in the MoU reflect priority achievements, including enhancing the efficiency of the judiciary, improving the reorganization and optimization of courts, upgrading ICMS, streamlining case flow, applying performance standards, and increasing public access to justice sector information.
In partnership with the Ministry of Justice and the Superior Council of Magistracy, Open Justice is working to deliver a range of results benefiting judges, court users, and the public at large. These include:
All courts will be equipped with the upgraded Integrated Case Management System (ICMS)
All judges and court staff will be trained in the use of the ICMS
E-notification and e-Filing services will be integrated into ICMS and made available to the public
Implementation of new judiciary performance indicators will be made available online
Upgraded judiciary websites will enable all members of society, particularly people with special needs, to access the newly enhanced information from the judiciary.
The representatives of the justice sector noted their strong support for improving the justice sector and the judiciary to more effectively serve the interests of the Moldovan people.