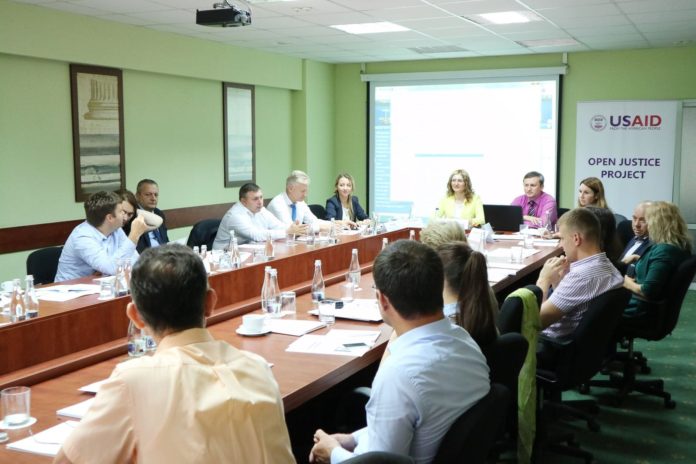 On July 28, 2017, Open Justice kicked off the implementation of the project by conducting a public forum on access to information in the judiciary. The purpose of the public dialogue was to identify information of public interest that various target groups, including lawyers, judges, civil society organizations, and mass media feel they have a right to know to better monitor the actions of the judiciary and to access its services. The first public consultation that Open Justice conducted in July focused on explaining the current and future functionalities of the Case Management System (CMS) that all Moldovan courts of law use. Over 25 participants gathered to discuss the type of information that CMS generates that should become available online to increase the transparency and extend the range of publicly available information. The participants asserted that wider information on the judiciary is critical for people's trust in the transparency and accountability of the justice sector. As a result, Open Justice noted a large list of recommendations pertaining to information of public interest that CMS can generate and that should become available online on the Courts' Portal (instante.justice.md).
Focus group participants discuss the information generated by the CMS that should become available online
In addition, Open Justice presented the e-Filing system, which is a modern IT tool that lawyers, prosecutors and parties will soon use to submit cases electronically. Currently, e-Filing is being tested and is scheduled for piloting in November 2017. Once it becomes operational, the system will allow electronic submission of complaints, online payment of court fees, attaching court case evidence, and online access to audio and video recordings case trials.
On August 10, the Open Justice team invited key groups to constructively discuss the improvements needed to upgrade the judiciary websites of the Superior Council of Magistracy, the Agency for Court Administration, and the Courts' Web Portal. Open Justice presented the current websites of the above-mentioned judiciary institutions and gave the workshop participants the opportunity to contribute with practical advice and recommendations on ways to enhance the information available for the public on the internet.
Lawyers, civil society representatives and judges present recommendations for enhancing judiciary websites
Having worked in small groups, the workshop guests formulated and presented concrete improvement proposals for upgrading the information and functionality of the judiciary websites. Among the most requested changes was the adjustment of all websites for people with special needs, to allow functionalities such as changing colors, text zooming, and easy search tools.
The participants also noted that the content of the websites should be made available in Romanian, Russian, and English. The inclusion of a Frequently Asked Questions section with up-to-date policies and regulations, and a special area on "Judicial Career" to increase the transparency of selection of judges, were among the requests made.