Project Chief of Party Cristina Malai welcomes guests and
presents the Project activities for the next two years
In June 2017, USAID's Open Justice Project conducted its official Launch Event. The Project aims to strengthen and improve the administration and transparency of institutions in the justice sector by using modern technologies accessible to citizens.
The U.S. Ambassador, James D. Pettit, USAID Country Director, Karen Hilliard, Minister of Justice, Vladimir Cebotari, and the Superior Council of Magistracy Chair, Victor Micu, attended the event. Numerous judiciary representatives, development partners, NGOs, and mass media representatives attended as well.
In his opening speech, Minister of Justice Cebotari emphasized the need to use modern technologies in the justice sector.
"The cybernetic system has many undiscovered miracles, but, today, we need to also digitize the services we offer to the community"
The Minister also noted that Open Justice will contribute to the efficient management of court costs and facilitate court optimization efforts.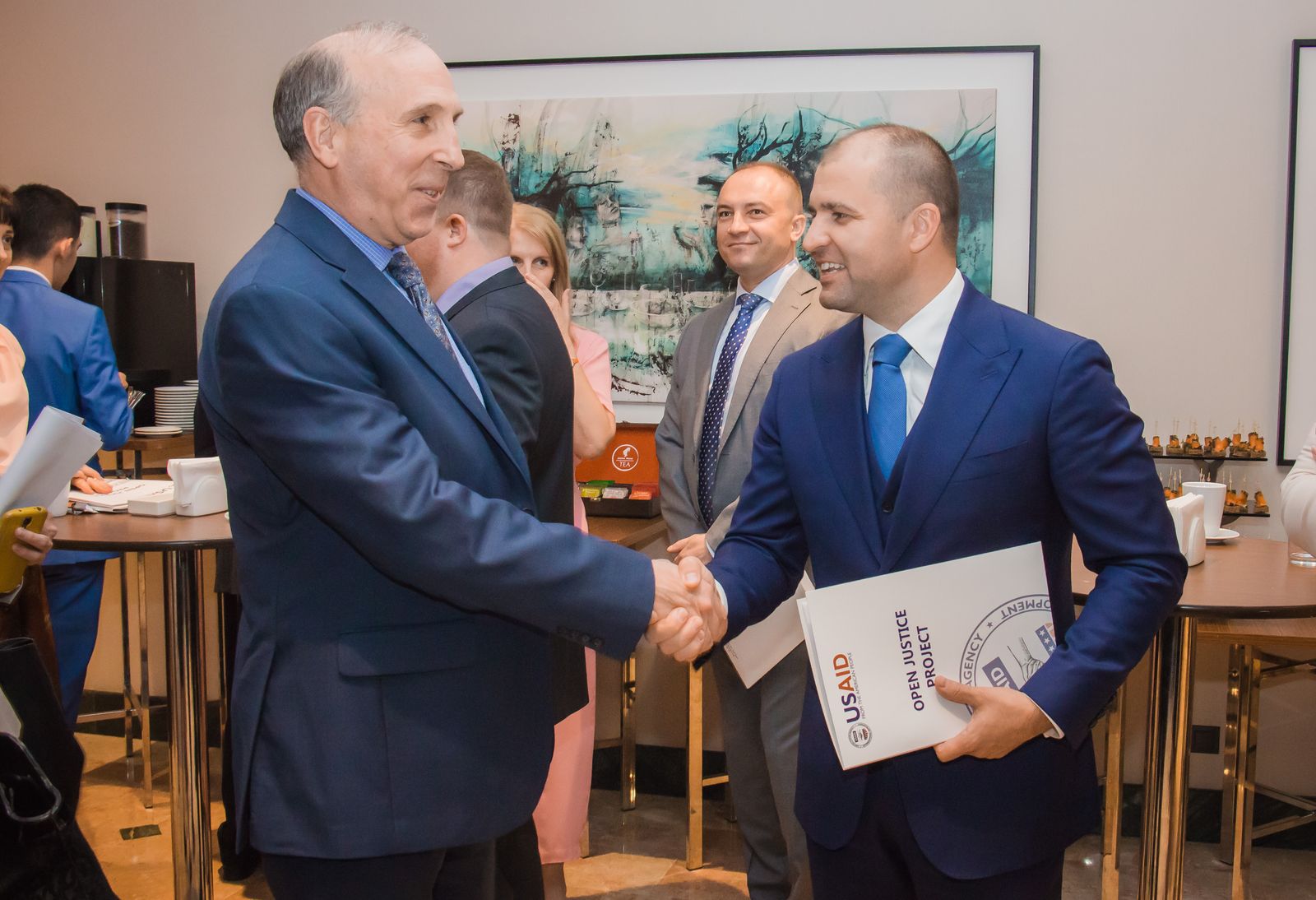 His Excellency Ambassador Pettit congratulates
Minister of Justice Cebotari
In his turn, Ambassador James D. Pettit noted that the Government of the United States of America looks forward to continuing the partnership between the two countries to promote the rule of law and improve judicial efficiency and accountability in Moldova.
These improvements will require the full support of the Ministry of Justice, the Superior Council of Magistracy, and the courts. Our goal is nothing less than a justice system the Moldovan people can be proud of
His Excellency James D. Pettit 
U.S. Ambassador to Moldova
At the event, Superior Council of Magistracy Chair Micu thanked the US Government for the technical assistance provided to Moldova over the years.
"We expect that the upgraded Integrated Case Management System (ICMS) will optimize the workflow and eliminate bottlenecks in order to bring more efficiency into judicial processes and procedures"
Under the two-year $4.9 million Open Justice Project, USAID will provide technical assistance to local partners to develop the ICMS. The ICMS is an electronic tool to reduce corruption, and it will promote transparency in the justice system by utilizing data and case management, as well as tracking judiciary performance indicators.